Making MOOCH - day 4 Support Local
Posted on
From the outset, we had decided that supporting local was a very important part of what we do – from our resources through to the products we sell, supporting the Northampton economy was important to us.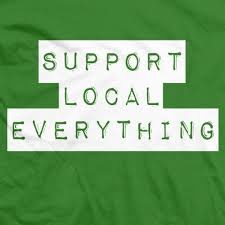 We found a couple of great guys (recommendation from Helen & Andy Barber, our friends and fellow business owners on St Giles Street) to undertake the work, and we found lots of local businesses to buy supplies from – we owe these guys many thanks for their support and advice:
Carpet Supacentre on St Edmunds Road in Northampton – they did our floor coverings, and there's hardly a day goes past when someone doesn't comment on our lovely stair carpet!

Abington Decorating Supplies – the advice these guys gave us on which paints to use in a conservation area was fabulous. They really know their stuff.

Travis Perkins – after our first evening's shopping at B&Q (TP wasn't open that first evening) they became our go-to spot for all things wood, screws and glues.

The Heat Corporation – who put much needed plumbing into our kitchen (and fixed the plumbing in the WC which had previously just been dumping the water from the sink on to the ground outside!)

On-load Systems Ltd - who added electricity to our upper floors … on our first floor there was just ONE plug socket for the whole floor, and on the second floor there was NO electricity … no lights, no plug sockets, nothing!

Garrod & Co – provided our EPOS system. We'll talk a bit more about this in a future blog, but the guys here helped us to choose a system that would give us great management information and would allow MOOCH to be easily scalable.

and finally … the all-round grafting duo of Chris and Craig who did everything to make sure we got open on time. We literally couldn't have done it without them.
Our interest in 'local' quickly extended into our range, and we have a fabulous selection of products that are sourced locally.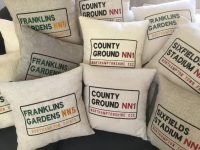 Jane Warwick – local artist – Jane creates the most wonderful art based on trees. She is one of the most lovely people we've ever met, and we are so happy to be working with her. Hugely popular with our customers. She has also created a fab range of cards

Studio 8 embroidery – another Jayne (with a y this time) – Jayne makes fabulous cushions and doorstops. We have a range of cushions featuring our local team; and we've also done some fabulous bespoke cushions for weddings and special occasions. Jayne is a fabulous local business woman and an inspiration to us.

Kendall & Co – another range of gorgeous candles and room scents. The inspiration for the Kendall & Co brand was Harriet's grandfather, who had a shop on St Giles Street! It feels very special to be able to keep the Kendall spirit alive on St Giles Street, and we imagine Harriet's grandfather would have been very proud to know that his name would still stand proud here where his business stood.

Coulson Macleod – these guys are based just outside Kettering and they have created an awesome range of great cards and art prints. We love their work – and they're really cool – we love working with them.

Lee Cousins – another very talented artist. Lee has been a customer sinc
e we opened, and when he told us about his work we were immediately interested. Lee is a very talented artist and shoe designer and he creates shoe designs for some of the biggest and best known brands in the world. We are very lucky to have some of his fabulous, original, technical drawings, framed and ready to hang. Stunning!

The Velvet Co – candles and room scents produced locally, using soy wax and beautiful packaging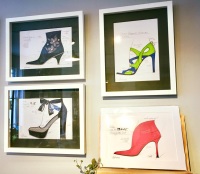 We are firm believers in karma – and we hope that if we support local businesses, that the local people of Northampton will support us. It seems to be going well so far… so we'll continue with that!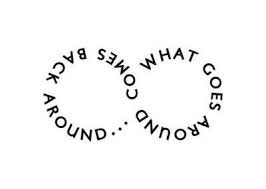 TOP TIPS:
When searching out local tradespeople, ask for recommendations from friends and other businesses

Spending time talking to customers and getting to know them will often reveal more information about them - we have three great ranges that came about by getting to know our customers better

Finding and supporting local businesses is really important - but don't compromise on quality - people will only buy local if it's good

Know your local area well - and be ready to recommend the businesses you rate